Giratina is one of the first pokemon ever made. He was made by Arceus, god of pokemon. He, Was made along with Palkia and Dialga who do not get along well. He has his own dark dimension and you can go there in pokemon platinum and battle and capture him. In his dark world, you receive help from the lake guardians. You must go though a maze of moving platforms to get to him. He has a pretty rough catch rate so be ready with your dusk balls, ultra balls, and in necessary, master balls. He is, at least to me, one pretty cool pokemon.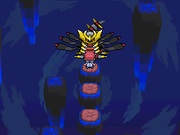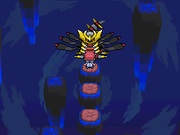 He is also the creator of anti-matter.
Ad blocker interference detected!
Wikia is a free-to-use site that makes money from advertising. We have a modified experience for viewers using ad blockers

Wikia is not accessible if you've made further modifications. Remove the custom ad blocker rule(s) and the page will load as expected.